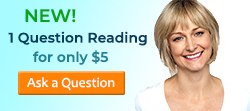 Starz Psychics is a unique site in that each Psychic Advisor gives personal attention to each and every client.

We are not a big corporation with big corporate prices! We are solely owned and operated.

Our mission is to make psychic readings affordable to everyone and to ensure honest and concise Psychic Readings. Our Psychics are thoroughly interviewed and only the most skilled and professional are accepted into the Starz Family.

One Price for All Advisors!
Unlike other sites that charge up to $10 per minute all psychics on Starz offer high quality readings at the same price. This allows you to choose the Psychic Advisor you want without worrying about cost!