View Other Topics
Angel Cards by StarzRainsLovingInsight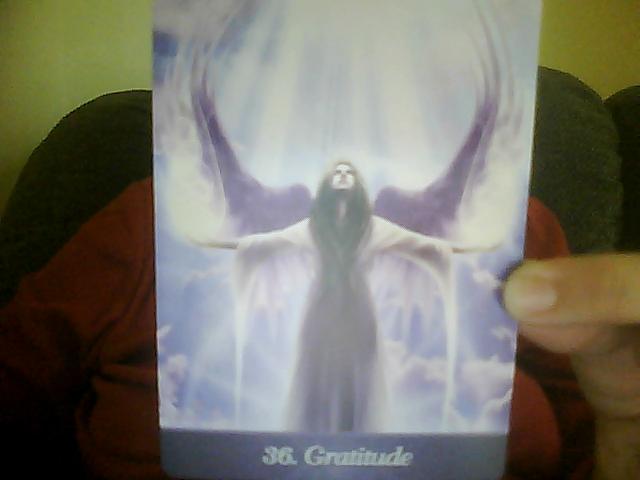 Feb 10, 2016
Gratitude


The angel represented here is Shemael (angel of gratitude.)


We are all so caught up in making a living that we seldom stop to take stock of what we already have of value in our lives.  When we are caught in this cycle, we tend to focus on what we are lacking rather then being grateful for what we have.  Learn to take a closer look at the relationships in your life and recognize their true value.  Give thanks for all of this each day: family and friends; pets who love us unconditionally; a roof over your head; food on your plate; a beautiful sunrise each morning offering you opportunities and hope.

Shemael reminds us that we have to have gratitude for the things that we ALREADY have.  We can't forget what we have already worked for in our lives and give thanks to God and the angels for those things!  We have to remember to give thanks for what is already here and don't get so caught up in what we DON'T HAVE! When we wake up in the morning give thanks for ALL that we have, our loving relationships, our families, our food and waking up each day, there is ALWAYS something to be grateful for!


You may reach StarzRainsLovingInsight at : 
http://www.starzpsychics.com/starzrainslovinginsight
Reproduction of all or any part of Angel Cards by StarzRainsLovingInsight©, including previous posts, without the express written permission from Planet Starz, Inc. is strictly forbidden.  All violators will be prosecuted to the fullest extent.
**Angel Inspirational deck by Kim Dreyer images used with permission of U.S. Games Systems, Inc., Stamford, CT. c. 1971 U.S. Games Systems.  Further reproduction prohibited.**
---
---
Tags:
#angels,#angel,#angel#card#readings,#starzrainslovinginsight,#usgamesinc.com,#starzpsychics.com,#Angel Inspirational deck by Kim Dreyer