View Other Topics
Summer Fruit Trifle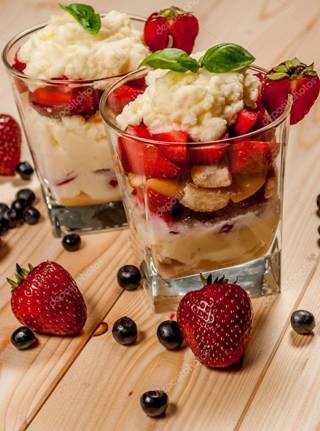 Jul 28, 2021
Image: Summer fruit trifle - depositphotos.com
License: # 221677482
Date: Jul 28, 2021
 

 
There's nothing more refreshing than fresh fruit in the summer when the selection is broad and the taste delicious.  Here's a family recipe from tastesbetterfromscratch.com with built in shortcuts that will have your family begging for it more than on special occasions!
 
Assemble beforehand
 
1 Bundt pan sized angel food cake
1 package vanilla instant pudding
2 cups whipping cream (or one large frozen whip defrosted)
 
One of the easiest desserts with the biggest "WOW" factor! Angel Food Cake Fruit Trifle with layers of vanilla pudding, fresh whipped cream, fruit, and soft angel food cake.
 
Servings: 10
 
Ingredients
 
1 bundt pan sized angel food cake homemade or store-bought
5 - 6 cups fresh fruit*
2 cups heavy whipping cream
1/2 cup powdered sugar
1 tsp vanilla
 
For the vanilla pudding layer
 
2 2/3 cups whole milk divided
1/2 cup granulated sugar
1/4 cup cornstarch
1/4 teaspoon salt
2 teaspoons vanilla extract
1 large egg
 
Instructions
 
For the pudding (the pudding can be made up to a few days in advance):
 
1.               In a medium saucepan over medium heat, bring 2 cups of the milk to a boil.
2.               While the milk is heating, combine sugar, cornstarch, and salt in a large mixing bowl. Gradually whisk in the remaining 2/3 cup milk, stirring until no clumps remain. Add the egg and whisk until smooth.
3.               Once the milk is boiling, slowly add it to the sugar mixture, stirring constantly.
4.               Return the entire mixture back to the saucepan, stirring constantly until it comes to a simmer. Cook it for one more minute, until thickened. Remove from heat and stir in the vanilla extract.
5.               (If the pudding has any lumps you can strain it through a fine mesh strainer.) Transfer pudding to a heat proof bowl and cover the pudding with plastic wrap, pressing it directly on the surface of the pudding. Refrigerate until chilled completely. Store covered in the fridge.
 
To assemble the trifle:
 
1.               Cut or tear the angel food cake into chunks. Prepare fruit by washing and slicing it as necessary.
2.               Make the fresh whipped cream by adding the heavy cream to a large mixing bowl. Beat with electric mixers on high speed for a few seconds. Add powdered sugar and continue beating until stiff peaks. Stir in vanilla.
3.               To fill the trifle, add several chunks of angel food cake to the bottom of the dish. Dollop several spoonfuls of pudding around the cake. Add a variety of the fruit, followed by a few dollops of fresh whipped cream. Repeat process until the trifle is filled. (I don't bother making "perfect" layers).
 
Recipe Notes
 
*You can substitute a large box of store-bought instant vanilla pudding. Prepare according to package instructions. *This trifle is completely adaptable to use the fruit you like/have on hand. I like to use strawberries, blueberries, blackberries, raspberries, pineapple, mandarin oranges, and grapes. You could add bananas, kiwi, or any other fruit you like.
 
---
---
Tags:
#strawberry#trifle,#recipe,summer,#starxpsychics