View Other Topics
Apple Sauce Cake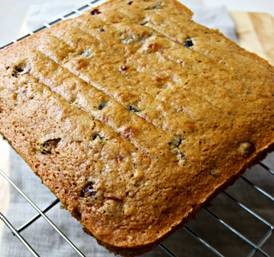 Jun 4, 2021
Image: Applesauce cake - tasteofhome.com
 
In a couple of days (June 6th to be exact) It'll be Applesauce Cake Day.  Since it's also the anniversary of D-Day, here's a recipe from tasteofhome.com to make in advance and let sit so the flavors develop - if you can keep your family's hands off of it, that is!
 
This moist applesauce cake recipe is a treasured heirloom passed down from a grandma who cooked for a family of 13 during the Depression. At reunions, it's the first dessert gone...including the crumbs!
 
Grandma's Applesauce Cake
 
Ingredients
 
3/4 cup raisins
1 cup hot water
1/2 cup shortening
2 cups sugar
1 large egg
2-1/2 cups all-purpose flour
2 teaspoons baking soda
1/2 teaspoon salt
1/2 teaspoon each ground cinnamon, cloves and nutmeg
1-1/2 cups applesauce
1/2 cup water
1/2 cup chopped walnuts
Confectioners' sugar, optional
 
Directions
 
1.      Preheat oven to 325°
 
2.      Place raisins and hot water in a small bowl; set aside.
 
3.      In a large bowl, cream shortening and sugar until light and fluffy.
 
4.      Beat in egg.
 
5.      Combine the flour, baking soda, salt and spices; add to creamed mixture alternately with applesauce and water.
 
6.      Drain raisins; fold into batter with the walnuts.
 
7.      Transfer to a greased 13x9-in. baking pan.
 
8.      Bake at 300° for 40 minutes or until a toothpick inserted in the center comes out clean.
 
9.      Place pan on a wire rack to cool.
 
10. Dust with confectioners' sugar if desired.
 
11. Serve warm or cold.
 
Nutrition Facts
 
1 piece:
 
282 calories
9g fat (2g saturated fat)
13mg cholesterol
237mg sodium
48g carbohydrate (31g sugars, 1g fiber)
4g protein.
 
---
---
Tags:
#recipe,#applesauce#cake,starzpsychics