View Other Topics
21 Winter Storm Names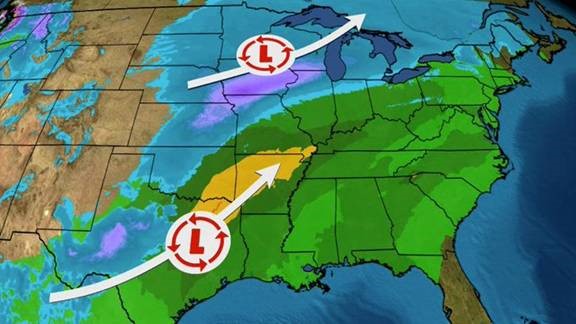 Jan 25, 2021
Image: Storm map - weather.com
 
In its ninth year of ignoring the meteorological rule book, The Weather Channel recently released this year's list of winter storm names.
 
The Weather Channel released its list of winter storm names for the 2020-21 season.
 
ACROSS AMERICA — This has been the year that's known no rules. Dominated by a pandemic, wildfires and murder hornets, most Americans probably don't have the mental bandwidth to keep track of something as simple as a run-of-the-mill winter weather event.
 
The Weather Channel is here for us, America.
 
In its ninth year of throwing out the rule book altogether, the weather forecasting juggernaut keeps on dodging the norm and ignoring the haters by recently announcing its own list of winter storm names for the 2020-21 season.
 
Here's the list of names (names in italics have already been used as of Dec 2020)
 
Abigail
Billy
Constance
Dane
Eartha
Flynn
Gail
Harold
Ivy
John
Katherine
Lana
Malcolm
Nathaniel
Orlena
Peggy
Quade
Roland
Shirley
Tabitha
Uri
Viola
Ward
Xylia
Yardley
Zayne
 
Since the 2012-13 winter season, The Weather Channel has assigned names to winter storms that meet strict National Weather Service criteria for winter storm warnings, blizzard warnings and ice storm warnings.
 
According to The Weather Channel, winter storm names exclude any current Atlantic and eastern Pacific hurricane names on the National Hurricane Center lists or any of those slated for use over the next six years. It also excludes any retired hurricane names, a designation typically given to hurricanes that were particularly deadly, destructive and historic.
 
So, what's in a winter storm name? It depends on who you ask.
 
Meteorologists outside of The Weather Channel still tend to refer to storms by their dates, Sara Ganetis, a meteorologist at NOAA's Weather Prediction Center, told Live Science.
 
And, technically, naming winter storms is against World Meteorological Organization rules.
 
"As much fun as it is to assign a name that sounds like a middle-age management consultant to every blustery squall that blows through, World Meteorological Organization guidelines state that only tropical cyclones get names," Ganetis said. "And scientists who study the weather aren't fans of bending that rule."
 
Live Science asked a number of weather experts at the National Oceanic and Atmospheric Administration and at universities about whether they call winter storms by The Weather Channel's names.
 
The resounding answer was "no."
 
"Several years ago, The Weather Channel began naming storms, but these are not any sort of official designations, just something that a private company decided to do," Allison Wing, a professor in the Department of Earth, Ocean and Atmospheric Science at Florida State University, told Live Science. "Government and university meteorologists and scientists generally do not use these unofficial Weather Channel names to discuss or describe winter storms."
 
Criticism aside, The Weather Channel keeps on marching to the beat of its own winter storm drum.
 
Last winter, there were 19 named storms. An average of 22 to 23 named winter storms occur each winter season, The Weather Channel said.
 
---
---
Tags:
#winter#storm#map,#winter#storm#names,#starzpsychics