View Other Topics
This Former Vice President Conspired Against The U.S. – But Then He Faced The Terrible Consequences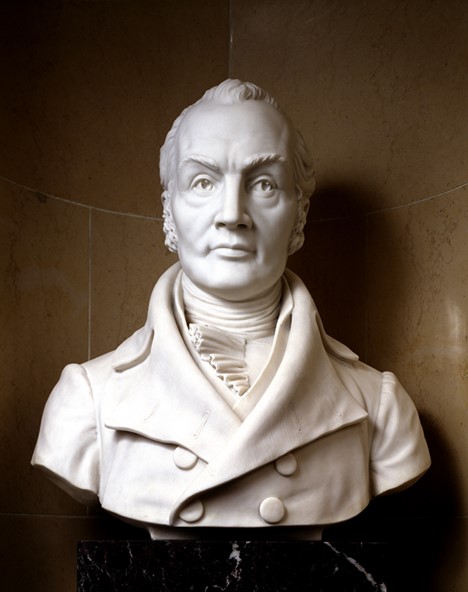 Dec 30, 2020
Image: Bust of Senator Aaron Burr - U.S. Senate Collection

 

Thirteen years after the ratification of the United States Constitution, Aaron Burr became the third man to take on the role of vice president according to equitymirror.com. But despite having held this patriotic position, Burr eventually plotted against the country that he'd helped to found. And after this once-powerful politician's scheming came to light, his career lay in tatters – never to be recovered. So, what did Burr do to make himself such an outcast? And why did he conspire against the U.S. in the first place?

As history buffs know, Burr initially ran as a Democratic-Republican Party presidential candidate alongside Thomas Jefferson. Jefferson would win the race to become the American leader, of course, with Burr instead serving for four years as Jefferson's VP. But throughout that period, the relationship between the two men was an uneasy one, filled with drama and dissent.

Distrustful of his ambitious second-in-command, Jefferson eventually shut Burr off from party affairs. And even though Burr had won praise in the courtroom, he was nevertheless viewed as dangerous and untrustworthy by some fellow politicians. Then, in July 1804, he fatally shot a rival during a duel, bringing his time in office to an abrupt conclusion.

Today, Burr is mostly remembered for this act, which caused the untimely death of founding father Alexander Hamilton. In the years that followed, however, he became involved in a treacherous plot that caused even more scandal than the murderous duel. And as a result, in 1807 he appeared in court accused of treason – making him one of the first in the U.S. to face such a charge.

So, how did Burr's political career come to such an acrimonious end? After all, like many of his peers, the future vice president had enjoyed a relatively privileged start in life. Born in 1756, he was the son of the College of New Jersey president Aaron Burr Sr. and his wife, Esther. Religion heavily factored into the couple's lives; Aaron Sr. was also a Presbyterian minister, while Burr's mother had been raised as the daughter of respected theologian Jonathan Edwards.

Tragically, Burr and his sister, Sarah, were later orphaned while still children and spent their youth being passed between different homes. Yet this devastating setback didn't stop the future vice president from being accepted into Princeton University at just 13 years old. Then, three years later, he graduated with a Bachelor of Arts degree, initially deciding to pursue a career in theology.

At the age of 19, however, Burr began to focus on law instead, relocating to Connecticut in order to further his studies. It was there, in fact, that he first heard whispers of the Revolutionary War. And in 1775 the aspiring lawyer decided to put his plans on hold and join the Continental Army fighting for the independence of the United States.

Before long, Burr proved himself to be an honorable and brave man on the battlefield, choosing the frontline over a cushy job on George Washington's staff. In July 1777 he was therefore promoted to colonel – a position that saw him often in charge of some 300 men. But despite some successes in combat, the regiment Burr led went on to be decimated by British forces the following year.

At around the same time, Burr fell ill with heat stroke, with his poor health eventually forcing him to resign from the Continental Army in March 1779. Consequently, he shifted his focus back to his legal career and went on to pass the bar in 1782 – the same year in which he married his wife, Theodosia. Burr then started out as a lawyer in New York City, as the British had at that point finally left the area.

In 1784 Burr also received his first taste of politics by serving in the New York State Assembly for one year. This was followed in 1789 by his appointment as attorney general – making him the chief legal officer of the entire state. And that was by no means all. Burr's inexorable rise through the ranks saw him elected a senator in 1791, with this being a role that he would hold for the following six years.

But Burr wanted to land an even more prestigious position, leading him to run for president in the 1796 election. And while he ultimately lost out to John Adams – with both Jefferson and Thomas Pinckney also winning greater number of votes – this did not deter the future vice president from pursuing politics. And in 1799 he made a bold move that won him both power and mistrust.

At the time, the Federalist party had a monopoly on banking in New York City. Keen to wield the influence associated with the industry, however, Burr tricked his rivals into supporting the establishment of a water company. Then, at the last minute, he changed the organization's remit, creating as a consequence the Bank of the Manhattan Company. But while the sneaky move was effective, it won him a number of enemies – including Hamilton

With his newfound clout, Burr was thus able to secure support for Jefferson and the Democratic-Republican party in New York. At the 1800 election, he even appeared alongside the future president on the ballot paper. At the time, candidates simply went for the presidency, with the runner-up in the race going on to become vice president. And as it turned out, Jefferson was the party's preferred man for the top job.

But there was a problem: the contest between Jefferson and Burr ended up in a tie. And while it was clear that the party intended for Burr to take on the role of vice president, the man himself refused to concede this, meaning the election was ultimately passed to the House of Representatives. Rumors even began to suggest that Burr was part of a Federalist conspiracy – although this was never proved.

Jefferson was finally inaugurated as president in 1801; the drama of the election meant, however, that he had been left with little trust in Burr. Yet although he was alienated from party affairs as a consequence, the vice president nevertheless proved himself skilled at a number of roles, including presiding over the Senate.

Behind the scenes, Burr's enemies were still bitter. Chief among them was Hamilton, who was apparently outspoken about his feelings toward his rival. In fact, he even warned his fellow Federalists that the vice president was an unscrupulous politician who was happy to change his alignment in order to further his career.

This was seemingly made clear in April 1804, when The Albany Register intercepted and published a letter from the Democratic-Republican politician Charles D. Cooper. "I assert that Gen. Hamilton and Judge Kent have declared, in substance, that they looked upon Mr. Burr to be a dangerous man, and one who ought not to be trusted with the reigns of government," the message read.

As if that wasn't bad enough, the article implied that Hamilton himself held an even lower opinion of Burr. After the letter's publication, then, the vice president wrote to his Federalist adversary demanding a retraction of the slanderous statements. Yet Hamilton proclaimed his innocence, suggesting that the author of the letter had distorted his remarks.

So, as no apology was forthcoming, Burr challenged Hamilton to a duel. Because the practice was illegal in New York, the pair arranged to meet in the neighboring state of New Jersey instead. There, the practice was also apparently against the law, although the punishments were not so severe. And on July 11, 1804, the two men duly came face to face just outside the town of Weehawken.

Then, within seconds, the duel was over. While Hamilton's bullet had missed his opponent, Burr's shot had pierced his rival's abdomen and damaged his internal organs. Mortally wounded, the Federalist was subsequently whisked to a friend's home in Manhattan, where he was baptized before finally succumbing to his injuries.

In the days that followed, however, a number of stories emerged that questioned the fairness of the duel. On one side, there were claims that the guns, which had been provided by Hamilton, had been rigged in the Federalist's favor. Others argued, by contrast, that Burr had enjoyed an unfair advantage owing to the location of the sun at the chosen location.

It was even suggested in some quarters that Hamilton had never intended to actually shoot Burr during the duel. And while this rumor was initially spread by media outlets that supported the deceased, it was also corroborated by witnesses and in letters penned by the Federalist before the face-off had taken place.

Charged with murder in both the states of New York and New Jersey, Burr initially fled to his daughter's home in South Carolina. As he was still technically the vice president of the United States, this time in exile couldn't last long, however, and eventually he returned to Washington, D.C. to fulfill his duties. Yet the scandal of the duel followed Burr, and it would soon help spell an end to his political career.

Indeed, when Jefferson campaigned for re-election in 1804, he chose to share a ballot with George Clinton rather than Burr. In March 1805, then, the vice president was removed from office. But despite his role in Hamilton's death, Burr would never face prosecution. And after his time as Jefferson's second-in-command, he made his way west, where destiny was waiting in a different form.

In 1805 Burr traveled first to Virginia and then southwest to what is now Louisiana. Just two years previously, the United States had forked out some $15 million to acquire this French territory. And while there, Burr leased a large tract of land from the Spanish, who also controlled some parts of the region.

But what Burr did next remains a matter of some mystery – much like the circumstances surrounding his duel with Hamilton. According to some reports, he hoped to establish a large settlement on his land. Was it possible, then, that the former vice president had set his hopes on an empire of his own? Or was he simply seeking a means of making his fortune?

At the time, it also looked as though the relationship between the United States and Spain – which then ruled Mexico – might descend into war. Some even believed that Burr's presence in Louisiana was intended to provoke such a conflict. And, interestingly, it later appeared that Burr had indeed been wanting to cause some disruption. It was claimed, you see, that he had wanted to join the southwestern states with Mexico and create a new republic in their place.

According to History.com, Burr had floated the idea of a western "separation" in America with the British, who didn't go for the deal. Yet the former vice president always denied having made any nefarious plans; instead, he claimed that his "settlement" in Louisiana was intended to provide a force of armed men in case of any upcoming Spanish conflict. If war broke out, he would be therefore well placed to stake a claim and keep his lands.

Regardless of whatever Burr was plotting, though, he enlisted the help of General James Wilkinson. Wilkinson was both the Governor of the Louisiana Territory and commander-in-chief of the U.S. Army at New Orleans, making him a useful ally to have. But as it transpired, this relationship would prove to be the former vice president's undoing. Trouble began brewing for Burr in 1806, when he and a number of armed men drew the attention of the authorities as they traveled en route to New Orleans

Keen to save his own skin, Wilkinson turned informant against Burr and sent word of his activities to Jefferson. Then, two days later, the president made an announcement, although he did not identify his former second-in-command by name. Instead, he stated that he had uncovered a treasonous plot; he also encouraged any guilty parties to lay aside their plans.

This anonymity did not last, as on January 22, 1807, Jefferson went on to issue a statement claiming that Burr was guilty of treason. The accusation notably came before any trial had taken place, and almost immediately it drew criticism from other politicians, including the president's predecessor John Adams. Nevertheless, Burr was arrested the following month.

And during the investigation, evidence came to light to support the claims that Burr had planned to support Mexico in overthrowing Spanish rule. It appeared, too, that there was some proof he had intended to establish a dynasty in the Central American country. If true, these actions would have constituted a misdemeanor, yet Jefferson decided to pursue a charge of treason instead.

Unfortunately for Jefferson, though, his determination to see his former vice president labeled a traitor hit a snag when the case finally went to court. John Marshall, the Supreme Court Chief Justice of the United States, was directing proceedings, and although he and Jefferson were actually related, there was no love lost between the two.

Previously, Marshall had already dismissed a case against Burr's associates on the grounds that they had not committed any crime in Washington, D.C. Jefferson continued to pursue his erstwhile colleague nonetheless, and so Burr was eventually sent to stand trial in Richmond, VA. In the meantime, the president dedicated a huge amount of time and resources to stacking the odds against his foe.

But after Burr's trial eventually began on August 3, 1807, it didn't take long for Marshall to dismiss this case, too. The U.S. Constitution states, you see, that to be guilty of treason one of two circumstances must apply: either the accused confesses, or two people testify to witnessing the alleged act.

As there were no witnesses to any acts of treason on Burr's behalf, he was therefore acquitted less than a month after the trial began. And Jefferson was so furious with the outcome that he attempted to get the very Constitution itself amended. From his perspective, Marshall had allowed treasonous behavior to go unpunished, and as president he should have been able to intervene.

Unsurprisingly, this proposed amendment to the Constitution never materialized. Yet although Burr was technically found not guilty, his political career was ruined. Wanting to leave the rumors behind, he caught a ship to Europe, after which he spent four years in exile. Then, finally, he returned to New York and his first passion of law.

Today, Burr is remembered in a number of different ways. According to some, the lack of evidence presented in court during the former vice president's trial proves that he was never guilty of treason. In fact, there are historians who paint Burr as an unsung hero, championing his progressiveness and support of women's rights.

Others view Burr in a less sympathetic light, believing instead that he was somewhat of a rogue. After all, there seems to be plenty of evidence to suggest that he really had planned an invasion of Mexico. Even while in exile in Europe, the wayward politician apparently sought funds to mount a second attempt to seize power in the Central American country.

Whatever the truth, though, Burr was never prosecuted for his alleged crimes. Instead, he lived out his final years in New York before dying at the age of 80 in 1836. And two centuries later, the former vice president is mostly remembered for his role in Hamilton's dramatic death. But as one of only a handful of people to ever be tried for treason in the United States, he nearly left a very different legacy behind.
---
---
Tags:
#u.s.#constitution,#vice#president,#history,#country,#starzpsychcis