View Other Topics
A Family Favorite - Cookies & Ice Cream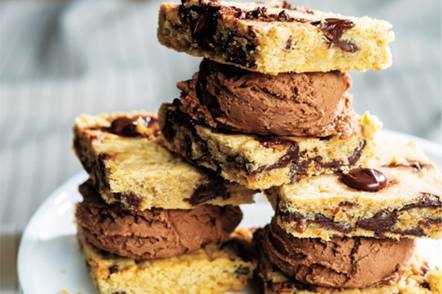 Sep 14, 2020
Image: Oatmeal Chocolate Chip Cookie Ice Cream Sandwiches - shoprite.com
 
The weather may be ready to change but cookies and ice cream are always a treat.  Here, from shoprite.com is a yummy, easy to make recipe for the delightful combination!
 
Oatmeal-Chocolate Chip Cookie Ice Cream Sandwiches
 
Ingredients
 
1/2 cup old fashioned oats
1/4 cup all-purpose flour
2 tbs whole wheat flour
1/8 tsp baking soda
1/4 cup Country Crock Plant Based Spread
3 tbs honey
3 tbs tahini
1 large egg
1/3 cup dark chocolate chips
1 cup chocolate ice cream (or a flavor the family enjoys)
 
Directions
 
1.    Preheat oven to 350. Spray 8x11-inch baking dish with cooking spray; line with foil so foil extends about 2 inches over short sides of dish.
 
2.    In medium bowl, whisk, flours, baking so da, 1/4 teaspoon salt.
 
3.    In another medium bowl, beat butter, honey, and tahini with mixer or on high speed 2 minutes or until light and fluffy.
 
4.    Add egg; beat on medium speed 1 minute or until incorporated.
 
5.    Add flour mixture; beat on low speed 2 minutes or until incorporated.
 
6.    Fold in chocolate chips.
 
7.    Spread dough in prepared pan; flatten top with spatula. Bake cookies 15 minutes or until golden brown.
 
8.    Gently press top of cookie with bottom of measuring cup to flatten; freeze 30 minutes.
 
9.    Use foil to lift cookie out of dish; cut into 16 ( 2 x 2 3/4 inch) bars.
 
10.    Sandwich 2 tablespoons ice cream between 2 cookie bars; repeat with remaining ice cream and cookie bars.
 
11.    Serve immediately or freeze on parchment-lined cookie sheets 2 hours and freeze in an air-tight container up to 1 month.
 
---
---
Tags:
#cookies#and#ice#cream,#food,#recipe,#starzpsychics,#starz#advisors