View Other Topics
What Are The Traditional Wedding Anniversary Gifts By Year?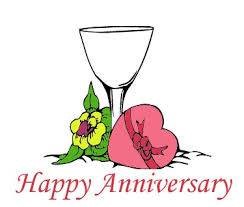 Sep 5, 2020
Image: Anniversary toast - clipartpanda.com
 
Congratulations! You've made it to another year of being married to the person of your dreams. If that's not something to celebrate, then what is asks trulyexperiences.com?
 
The traditional wedding anniversary gift list goes as far back as the Middle Ages, but it's still very much in use today. There's just something special about sticking to tradition.
 
Want to know the real meaning behind each gift? Need some anniversary gift inspiration?
 
Whether it's your 1st or your 50th, here's the list of wedding anniversary gifts by year and their meanings, so you can make sure you're getting your gift right.
 
1st Anniversary – Paper
 
The traditional gift for your first marriage is paper. No that's not meant to represent 'divorce papers', but rather a 'clean sheet' for the two of you to write your own story. However, it also represents the ease at which your marriage can be torn. It has not yet stood the test of time.
 
While you may be thinking that paper is a pretty common, unspecial material, there's one clever way of making your first wedding anniversary gift an unforgettable one; and that's with a gift experience voucher.
 
Gift cards really let you spoil your beloved with something they're most interested in, while still sticking to tradition. And the best part? It's just a piece of paper, but it means a whole lot more!
 
From fine dining to romantic getaways to relaxing spa and pampering session, the possibilities are endless! Date night just got a whole lot more exciting.
 
2nd Anniversary – Cotton
 
Durable and versatile, cotton holds the qualities of a marriage that's made it to its second year. The underlying meaning behind a cotton gift is that your marriage needs to be able to stay strong even when faced with difficult changes. Accomplish this, and the two of you will grow ever closer, your lives becoming intertwined like interwoven cotton fibres.
 
His and Her 100% cotton bathrobes are an excellent cotton themed anniversary gift. Practical but plush, there's something romantic about wearing a personalized soft cotton luxury bathrobe on the morning of your anniversary. If that's not special enough, take your loved one for a romantic spa day, a creative way of sticking to the cotton anniversary theme.
 
---
---
Tags:
#anniversary#gifts,#celebrate,#starzosychics,#starz#advisors