View Other Topics
Everything You Need to Know About Father's Day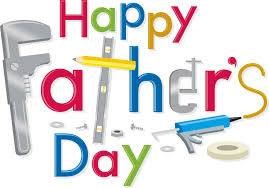 Jun 21, 2020
Image: Happy Father's Day - clipartpanda.com
 
Here's how long you don't have to plan the perfect Father's Day for Dad according to countryliving.com
 
Summer showed up before you knew it, and along with it, a pretty important date for all the dads out there. You guessed it: We're talking about Father's Day. Although most sons and daughters don't need a specific date to celebrate the most important man in their life, every dad in the country does get his special day on the calendar. With the warmer weather, you're probably already planning a weekend filled with your father's famous grilling recipes and summer drink recipes, but you'll want to do a little more than just fill dad with his favorite food and drinks. (But hey, that's not a bad way to begin!)
 
It was never meant to be this way, but the annual holiday can surprisingly come with a considerable amount of stress when you're supposed to find the perfect Father's Day gift for the guy who insists he doesn't need anything. (And let's be honest, sometimes a Father's Day card alone just doesn't cut it.) You may now be wondering, "Well, how did Father's Day get here so fast?" Here, we're telling you all you need to know about the holiday, including its history.
 
Is Father's Day On The Same Date Every Year?
 
Don't feel bad if this date is news to you; the celebration changes days year-to-year. If you ever forget, just remember that Father's Day always falls on the third Sunday in June, and then check the calendar accordingly.
 
What Is The History Of Father's Day?
 
Unlike Mother's Day, which has pretty somber origins, Father's Day has relatively light roots—and was actually created by a woman. According to History.com, back in 1909, a woman named Sonora Smart Dodd, "tried to establish an official equivalent to Mother's Day for male parents." She went around to local businesses to gather support for her idea, and on June 19, 1910, the state of Washington celebrated the first ever Father's Day.
 
Although the event inspired President Woodrow Wilson and President Calvin Coolidge to urge Americans to acknowledge a day for dads during their administrations, it still wasn't an official holiday. Unfortunately, the enthusiasm for the commemoration didn't last long. During the '20s and '30s, people tried to do away with both Mother's Day and Father's Day and replace them with Parents' Day instead.
 
Then, during the Great Depression, retailers made a push to commercialize the holiday in an attempt to make money during dire financial times. And as World War II started, people began to use Father's Day as a way to pay respect to American troops.
 
Finally, several decades later, on May 1, 1972, President Richard Nixon signed Proclamation 4127, which declared Father's Day as a national holiday, with the first official celebration on June 18, 1972. "Let each American make this Father's Day an occasion for renewal of the love and gratitude we bear to our fathers, increasing and enduring through all the years," he wrote in the document.
 
 
PROCLAMATION 4127
 
Father's Day . May 1, 1972
 
By the President of the United States of America
A Proclamation
 
To have a father—to be a father—is to come very near the heart of life itself.
 
In fatherhood we know the elemental magic and joy of humanity. In fatherhood we even sense the divine, as the Scriptural writers did who told of all good gifts coming "down from the Father of lights, with whom is no variableness, neither shadow of turning"—symbolism so challenging to each man who would give his own son or daughter a life of light without shadow.
 
Our identity in name and nature, our roots in home and family, our very standard of manhood—all this and more is the heritage our fathers share with us. It is a rich patrimony, one for which adequate thanks can hardly be offered in a lifetime, let alone a single day. Still it has long been our national custom to observe each year one special Sunday in honor of America's fathers; and from this year forward, by a joint resolution of the Congress approved April 24, 1972, that custom carries the weight of law.
 
This is fitting and good. Let each American make this Father's Day an occasion for renewal of the love and gratitude we bear to our fathers, increasing and enduring through all the years.
 
NOW, THEREFORE, I, RICHARD NIXON, President of the United States of America, do hereby request that June 18, 1972, be observed as Father's Day. I direct Government officials to display the flag of the United States on all Government buildings, and I urge all citizens to display the flag at their homes and other suitable places on that day.
 
IN WITNESS WHEREOF, I have hereunto set my hand this first day of May in the year of our Lord, nineteen hundred seventy-two, and of the Independence of the United States of America the one hundred ninety-sixth.
 
 
---
---
Tags:
#father's#day,#history,#starzpsychicsnetwork,#starzpsychics,#starz#advisors