View Other Topics
World Food Day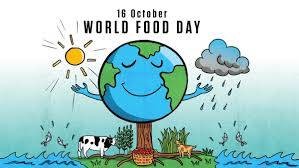 Oct 16, 2018
Image: Related Organisation/Agency:  Food and Agriculture Organization of the United Nations (FAO)
 
World Food Day is a day of action dedicated to tackling global hunger. Held annually on 16th October, people from around the world come together to declare their commitment to eradicate worldwide hunger from our lifetime.
 
Celebrating the creation of the Food and Agriculture Organization (FAO), events are organized in over 150 countries across the world, making it one of the most celebrated days of the UN calendar. These events promote worldwide awareness and action for those who suffer from hunger and for the need to ensure food security and nutritious diets for all. The focus of the day is that food is a basic and fundamental human right. Yet, in a world of billions, 805 million people worldwide live with chronic hunger, 60% women and almost five million children under the age of five die of malnutrition-related causes every day.
 
The World Food Day 2018 focused on SDG 2 - Zero Hunger. Greening the Blue.  For more information, visit the World Food Programme website.
 
8 Reasons Why Zero Hunger Changes the World
 
1.    Zero hunger could save the lives of 3.1 million children a year
2.    Well-nourished mothers have healthier babies with stronger immune systems
3.    Ending child undernutrition could increase a developing country's GDP by 16.5 percent
4.    A dollar invested in hunger prevention could return between $15 and $139 in benefits
5.    Proper nutrition early in life could mean 46 percent more in lifetime earnings
6.    Eliminating iron deficiency in a population could boost workplace productivity by 20 percent
7.    Ending nutrition-related child mortality could increase a workforce by 9.4 percent
8.    Zero hunger can help build a safer, more prosperous world for everyone
 
Every year, a large number of events - from marathons and hunger marches, to exhibitions, cultural performances, contests and concerts – are organised in around 130 countries across the world to celebrate World Food Day.
 
Whether you're a business, NGO, journalist, media agency, city, or a civil society organization, you can call for action on Zero Hunger!
 
Plan a World Food Day event or spread the word,  many agencies have a range of promotional materials in several languages – a poster, a brochure, event banner, web or social media graphics or activity book for kids.
---
---
Tags:
#world#food#day,#food&agriculture,#starzpsychics.com,#starz#advisors