View Other Topics
September Recipe - Homemade Tomato Soup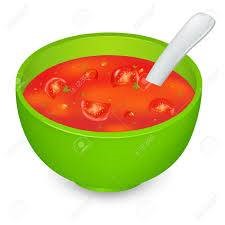 Sep 26, 2018
Image: Bowl of hot tomato soup – clipartpanda.com

Those tomatoes ripening all at once out in the back yard garden won't go to waste if you put them into this tummy tempting homemade delight from an old family recipe. Don't be intimidated by the time it takes to prepare because much of it is spent watching the pot! You'll be glad you took the time to prepare this dish.

Garden Fresh Tomato Soup

Serves 4–6

Ingredients

4 slices thick-cut bacon, finely chopped
2 tbsp. unsalted butter
4 cloves garlic, finely chopped
1 medium yellow onion, finely chopped
1 medium carrot, finely chopped
3 tbsp. tomato paste
1 tbsp. flour
4 cups chicken stock
2 sprigs thyme
1 bay leaf
6 blanched and peeled whole fresh tomatoes, diced
OR
1 (15-oz.) can whole, peeled tomatoes in juice, crushed by hand
¼ cup heavy cream
Kosher salt and freshly ground black pepper, to taste
Crème fraîche**, croutons, and finely chopped chives, to garnish

**Plain sour cream is a great substitute for crème fraîche, and the result will just be slightly more sour than if crème fraîche is used. If you're feeling ambitious, make your own crème fraîche with just 2 tbsp buttermilk and 1 cup heavy cream in a glass bowl, stir together, cover and let sit at room temperature 8 to 24 hours.  Lasts several days in the refrigerator.


Instructions

1.  Prepare the fresh tomatoes using 2 cups of the chicken broth, one slice of chicken, ½ tsp garlic. Boil gently for 20 minutes. Drain liquid and reserve to add to soup later. Set aside tomatoes.
2.  Heat bacon in a 4-qt. saucepan over medium heat, and cook until its fat renders and bacon is crisp, about 15 minutes.
3.  Add butter, and increase temperature to medium-high; add garlic, onion, and carrot, and cook, stirring, until soft, about 10 minutes.
4.  Add tomato paste, and cook, stirring, until lightly caramelized, about 3 minutes.
5.  Add flour, and cook, stirring until smooth, about 2 minutes more.
6.  Add stock, including what was used to cook the tomatoes, thyme, bay leaf, and tomatoes (either fresh or canned), and bring to a boil; reduce heat to medium-low, and cook, stirring occasionally, until slightly reduced, about 30 minutes.
7.  Remove from heat, and purée; return to saucepan, and stir in cream.
Season with salt and pepper.
8.  Divide among bowls; dollop with crème fraîche (or a dry sour cream), and sprinkle with croutons and chives.

Serve with crisp French or Italian bread rubbed with garlic and lightly toasted and a crisp green salad with a zesty dressing.
---
---
Tags:
#september#recipe,#tomato#soup,#starzpsychics.com,#starz#advisors