View Other Topics
Winged Enchantment Cards - StarzRainslovingInsight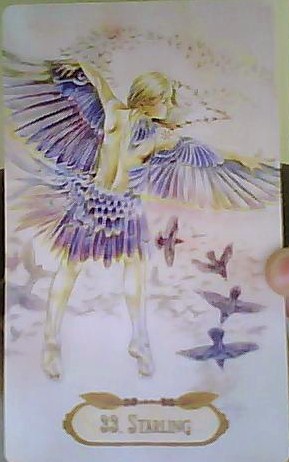 Apr 7, 2016
Starling

I am Starling, the relinquishing of the ego.  I am the binding of society.  I am the way the entire world affects you and the way you affect the entire world.  I am unity.  I am wholeness.  You have reached a time when your work must be shared.  Stop hoarding your gifts. Stop hiding your wisdom.  What you learn is only as good as how you use it to teach others.  I am tradition.  I am your ability to bring others together in meaningful ways.  It is time to express.  It is time to blend yourself into the bigger picture.  Being group minded doesn't mean giving up personal power, but rather allowing that power to shine brighter.

You are a gathering of like minds.
you are the expansion of ideas.
You are the catalyst.
You are Starling.
The Starling is telling you now is the time to surround yourself with like minded people.  Now is the time for you to start changing your thought process and look at the bigger picture of things.  It wants you to expand on your ideas you have had and move forward with them. The Starling wants you to be the TEACHER now to everyone that you can possibly help!

You may reach StarzRainsLovingInsight at:
http://www.starzpsychics.com/starzrainslovinginsight
Reproduction of all or any material of StarzRainsLovingInsight©, including previous posts, without the express written permission from Planet Starz, Inc. is strictly forbidden.  All violators will be prosecuted to the fullest extent.
**The Winged Enchantment Cards by Lesley Morrison and artwork by Lisa Hunt images used with permission of U.S. Games Systems, Inc., Stamford, CT. c. 1971 U.S. Games Systems.  Further reproduction prohibited.**
---
---
Tags:
#winged#enchantment#cards,#lesley#morrison,#lisa#hung,#usgamesinc.com,#starling,#mediums,#advisors