View Other Topics
When Forsythia Blooms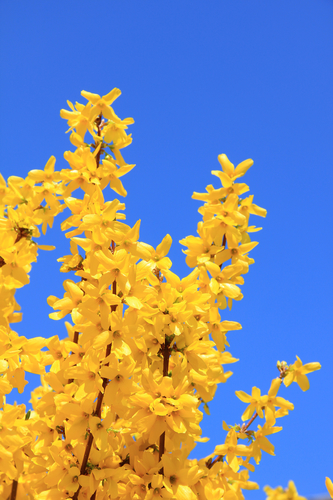 Mar 30, 2016
In this timely article from viette.com we find out what's so great about when Forsythia blooms.
 
Late March and April bring forth the beautiful and most welcome blooms of Forsythia. Seeing these bright yellow flowers bursting into bloom is a true sign of spring.
 
But did you know that you can use forsythia blooms as the basis for the timing of many spring garden chores?
 
Pruning roses:
 
When the Forsythia are in full bloom, it is time to prune your hybrid tea roses, floribunda roses, and grandiflora roses. To prune these roses, start by cutting out all but five of the healthiest stems. Then cut these stems back to 12" to 18" from the ground. Cut any winter-damaged stems back to healthy green wood.
 
Pruning other shrubs:
When the Forsythia petals begin to drop, cut your Buddleia (butterfly bushes) back to about 12"-18" from the ground. Use this same timing for cutting back your Caryopteris and Vitex.
Crabgrass control in your lawn:
Before the Forsythia petals drop, apply a pre-emergent herbicide to control crabgrass in your lawn.

Always read and follow the label directions.
Getting ahead of the weeds:
About the time the Forsythia begin to bloom, many weed seeds in your garden are beginning to germinate! This is a great time to get out and hoe in the garden to prevent these "babies" from becoming established in your beds.
Consider investing in a favorite weeding tool, the swing-head hoe, to quickly eliminate weeds without disturbing your mulch.
In the vegetable garden:
Once the Forsythia are in bloom, it's time to direct sow your cool-season crops in the vegetable garden. These include: spinach, lettuce, peas, carrots, chard, beets, and radishes.

When the Forsythia have finished blooming, you can safely start to plant your potatoes.

Here's a unique way to plant potatoes! Check it out and give it a try!
 

 Image & license from: Depositphotos_40006563_s-2015.jpg
---
---
Tags:
#forsysthia,#flowers,#yellow#flowers,#starzpsychics.com,##spring