You've Selected:
StarzDivineAstro
From:
Jaipur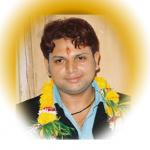 StarzDivineAstro's Reviews
"Once again DivineAstro has been right on and I will be back again to let him know if he is right again :) Thanks again and God bless you DivineAstro :)"
- Josie
"Divine has been right on with 2 timesframes he had gotten for me in JUne. He is very good and I will be back :)"
- Josie
"I am so amazed at this gifted person. He is truly honest and knowledgeable. I am amazed at how well he can see. He knew how to explain me and my personality perfectly and answered all my questions patiently..."
- Www