You've Selected:
StarzDivineAstro
From:
Jaipur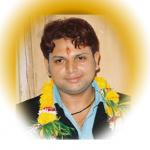 StarzDivineAstro's Reviews
"He was very good and gave me some timeframes. I will be back again. "
- Josie
"What a handsome man very gifted and kind he helped me a lot with my path. I give him excellent"
- Debbie
"I am an accredited astrologer of 25 years and this is who I go to for my questions. StarzDivineAstro is warm and accommodating, answering all my questions quickly. I know how how hard it is to read a chart..."
- WitchyWoman