View Other Topics
6 Unexpected Treasures Found in Curious Places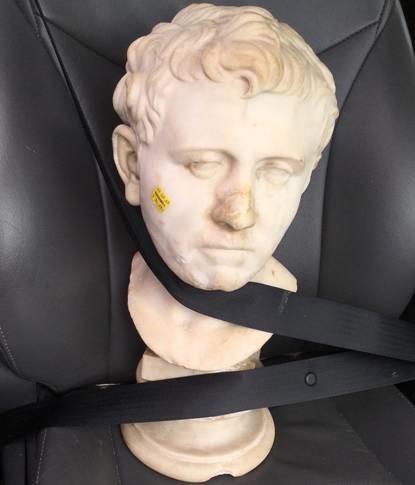 Jul 19, 2022
Image: 2,000 year old bust found in a Texas thrift shop belted in to go home with Laura Young – atlasobscura.com
 
From a Nazi code machine found at the bottom of a bay to a vintage Babe Ruth card hidden in a piano come to us in this article from atlasobscura.com.
 
Laura Young was sure to buckle in the 2,000-year-old bust she named "Dennis" after buying it at an Austin thrift store. COURTESY LAURA YOUNG
 
In 2018, at a Goodwill store in Austin, Texas, a marble bust of a dour-looking man caught antique dealer Laura Young's eye. She liked the look of him and bought the bust for $34.99, dubbing it "Dennis" after the self-obsessed character Dennis Reynolds in It's Always Sunny in Philadelphia. Young guessed the statue was old, but never imagined it was a 2,000-year-old original. A Greek sculpture expert ​​at Sotheby's deduced that Dennis was actually a Roman bust of Germanicus, father of infamous madman Caligula. But that wasn't all: Young learned the bust had been stolen during World War II. Most likely a G.I. looted the bust in Germany and brought it back to the United States, where it eventually ended up at Goodwill. Young was determined to return it to Germany, but sorting everything out would take years. Now, after a brief stint at the San Antonio Museum of Art, Dennis is finally set to return home in 2023.
 
It's quite the story, but finding hidden treasures in surprising places isn't as rare as you might imagine. Here at Atlas Obscura we love these kinds of stories. So in honor of the return of Dennis, we went digging through the archives to uncover some other stories of priceless artifacts discovered in unusual places.
 
A Mosaic From Caligula's Ceremonial Ship, Turned Into a Coffee Table
 
The striking piece sat in a Manhattan apartment for decades, until the Italian military police's Art Recovery Unit showed up.
 
Antique dealer Helen Fioratti had no idea the mosaic that sat in her Upper East Side apartment had been dredged up from a mysterious Roman barge in Lake Nemi, Italy. After buying the red-and-green mosaic in Europe, Fioratti spent thousands of dollars shipping it home to New York and converting it into a coffee table. For 45 years, the table sat as a beloved accent piece, garnering many compliments from visitors, Fioratti told The Associated Press. That is until the Italian military police's Art Recovery Unit and New York's district attorney's office caught wind of it. The mosaic, since returned to Italy, had been stolen from the opulent "pleasure boats" of Rome's tyrannical emperor, Caligula (yes, as in the son of Germanicus, aka Dennis). Caligula's pleasure boats boasted lush gardens, baths, and even hot water. Unfortunately for Fioratti, Caligula's mosaic landed her in some hot water of her own.
 
From a tyrannical Roman emperor's pleasure boat to a Manhattan apartment coffee table, this mosaic has gone on quite the adventure.
 
A Wad of World War II Bills Hidden Under an English Retail Store
 
Worth over $2 million today, the cash was uncovered beneath the floorboards during renovation work.
 
The Nazi incursion during World War II had the Jewish owners of a high-end English gown shop worried. Brothers Eric and Victor Bradley, who ran the business, wanted to be sure their family had the means to flee if German forces marched on England. So before their deployment to the front, they stashed some 30 wads of £5 and £1 notes for a total of £130,000, over $2 million in today's U.S. dollars. At least that's the best guess as to how the cash made its way beneath the floorboards of a Brighton retail space.
 
A Vintage Babe Ruth Card Found in a Piano
 
110 vintage baseball cards were found in the family heirloom.
 
Growing up, Ellen Kelly was never allowed to play her Aunt Nora's piano. But when the family heirloom came up in a 1992 family estate sale, Kelly nabbed it for $25. More than 25 years later, Kelly discovered why the piano had always sounded so weird—110 vintage baseball cards had been hidden inside it, including a Babe Ruth rookie card. Knowing their sister's penchant for throwing things out, Aunt Nora's brothers likely stashed the collectibles in the piano decades ago. After sitting on the find for nearly 20 years, Kelly eventually auctioned off the cards in 2019. The Babe Ruth rookie card ended up selling for $130,000—not a bad return on a $25 piano.
 
An $88 Portrait Thought To Be The Work of a 17th-Century Flemish Master
 
Art historians think Anthony van Dyck may have painted the antique shop find.
 
There are 20 known surviving versions of Anthony van Dyck's portrait of the Infanta Isabella Clara Eugenia, Brussels's powerful 17th-century ruler. At least that's what art historians thought—until librarian Chris Wright uncovered one more. At an antique shop in the 1970s, Wright noticed the portrait of a stern, elderly woman in a black nun's habit and thought it was a pretty good copy of the van Dyck original—good enough to pay $88 for it. Now, more than half a century later, experts at London's Courtauld Institute of Art think Wright's copy may have come from van Dyck's own workshop—and possibly from the master himself.
 
Nazi World War II Enigma machines can sell for hundreds of thousands of dollars at auction—even those uncovered from the seafloor.
 
A Nazi Enigma Machine Found at the Bottom of a Bay
 
The rust-encrusted device was likely abandoned at the end of World War II.
 
In November 2020, marine biologist Michael ßwat was on a routine dive in the Baltic Sea, retrieving "ghost nets" and other discarded fishing equipment, when he noticed something odd on the seabed. What appeared at first to be an old typewriter turned out to be a World War II Nazi Enigma machine, likely one of the hundreds thrown overboard in the waning days of the German war effort. Once refurbished, the water-logged machine will go on display at the archaeological museum in Schleswig, Germany.
 
These Treasures from Medieval Jewish Life Were Hidden in a French Candy Shop
 
After spending 500 years concealed in a wall, they were found in 1863 and only recently went on display.
 
Her name was Anch. She lived in northeastern France. She was Jewish and married. But sometime around 1300, she hid her wedding ring, 13 gold rings, and 384 silver coins behind a wall for safekeeping. At least, that's what art historians can parse together based on the rare artifacts. The treasure trove was accidentally discovered in 1863 when a handyman found a terracotta pot behind the wall of a confectionary in Colmar, France. Today, the rings and other artifacts in the container provide clues about what Jewish life was like in medieval France.
 
---
---
Tags:
#unexpected#treasures,#old,#history,#strange,#starzpsychics