View Other Topics
After the Holidays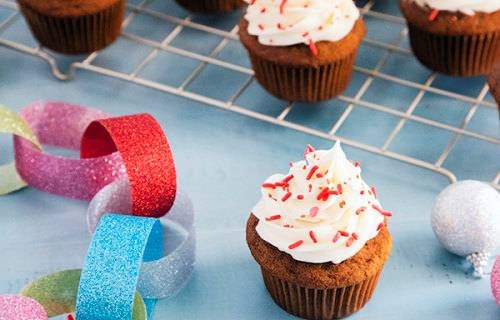 Jan 7, 2022
Image: Gingerbread cupcakes – shoprite.com
 
Can't let go of those awesome holiday falvors? Check out this recipe for gingerbread cupcakes from shotprite.com
 
Gingerbread Cupcakes
 
40 min, 12 servings,
 
Ingredients
 
1/2 cup Wholesome Pantry Organic brown sugar
1 stick (1/2 cup) Wholesome Pantry unsalted butter
1 Wholesome Pantry egg
1 cup molasses
2 1/2 cups Bowl & Basket all-purpose flour
1 1/2 tsp baking soda
2 tsp ground cinnamon
2 tsp ground ginger
1 tsp ground cloves
1/2 tsp salt
1/2 cup Wholesome Pantry unsweetened applesauce
1 cup hot water
Vanilla frosting, for topping
sprinkles, for topping
 
Directions
 
Preheat oven to 350 degrees and line one 12 cup muffin pan with mini liners. Set aside while you make the cupcake batte
Beat together sugar and butter until light and fluffy, then beat in the egg and molasses until fully combined.
Stir in the flour, baking soda, salt, cinnamon, ginger, and cloves until just mixed.
Carefully  whisk in water and applesauce until mixture is smooth.
Pour about ¼ cup of batter into each muffin cup and bake for 20-25 minutes or until a toothpick inserted into a cupcake comes out clean.
Let cool in pan for 10 minutes before removing to cool completely on a wire rack.
 
Once cool, top with frosting of choice and sprinkles !
---
---
Tags:
#gingerbread#cupcakes,#dessert,#after#holiday,#strzpsychics