View Other Topics
Thanksgiving by Horoscope Sign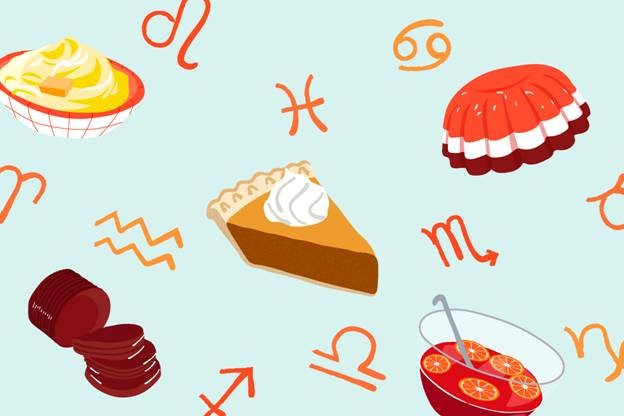 Nov 25, 2021
Image: Zodiac side dishes - thekitchn.com
 
Celebrate and give thanks in your sign's unique way (from an article in mysticlivingtoday.com)
 
As Thanksgiving rolls around once again, wouldn't it be more meaningful to break from tradition and celebrate in ways that will make us truly happy?
 
We all have much to be grateful for, so how about gathering friends and family to count our blessings in ways well suited to our horoscope signs? Here are some great astrology-based ideas to lend even more meaning to your Thanksgiving holiday.
 
Aries (March 21 - April 19)
 
You love the great outdoors. If the weather is cooperative, why not throw a Thanksgiving picnic at your favorite local park this year? Give rein to your fiery spirit by decorating the tables with red-and-white checkered tablecloths, red cutlery and napkins. Get small, pre-roasted turkeys to keep it simple, and ask friends and family to bring their favorite dish. Play croquet or volleyball on the lawn and a good time will be had by all!
 
Taurus (April 20 to May 20)
 
Because you're such a great cook, you usually end up doing the honors. Why not give yourself a break this year and gather everyone at your favorite restaurant for an unforgettable holiday meal? Book a reservation at a top steakhouse, pizzeria or smorgasbord (do it the day after Thanksgiving if they're closed). Or, for a real change of pace, assemble friends and family at a Thai, Cuban or Ethiopian place you like..
 
Gemini (May 21 to June 20)
 
Because you love to be on the move, you might enjoy organizing a progressive Thanksgiving meal this year. People could start at your place for appetizers and drinks, then move on to a health-conscious Virgo's house for salad and soup. Ask a Taurus or Cancer who loves to cook to host the main course at their cozy abode, then finish up with dessert and aperitifs at your favorite Pisces or Leo's luxurious den.
 
Cancer (June 21 to July 22)
 
You often fret about holidays, afraid your meal won't turn out perfectly or that people won't get along. This year, take the pressure off yourself by having the meal catered, or by preparing the food the day before so you can just heat it up at the last minute. Better yet, let someone else host the gathering this year so you can really relax! As long as you bring Grandma's special Dutch apple or pecan pie, everyone will be happy.
 
Leo (July 23 to Aug. 22)
 
Indulge your adventurous spirit this year. See if you can arrange to have Thanksgiving dinner at your favorite ski lodge or golf course. That way, you can work up an appetite before you eat! You could also host a "gratitude gathering," in which you ask friends and family to bring a dish that symbolizes what they're most grateful for, or finish your usual celebration with a round of charades in which people act out their blessings!
 
Virgo (Aug. 23 to Sept. 22)
 
Nothing makes you happier than gathering the family around you at the holidays. Why not extend your definition of "family" this year and volunteer to feed the homeless at a local shelter? You could also celebrate with the residents at a local nursing home. Or, include a less fortunate family in your home-cooked meal. Serve healthy fare like organic turkey, fresh vegetables with herbs, whole-wheat rolls and sparkling cider.
 
Libra (Sept. 23 to Oct. 22)
 
Your idea of heaven is to celebrate the holidays with your dearly beloved. So, why not bow out of family obligations and make a special meal for the one you love? Search online for gourmet recipes that you know will please, and set the table with your finest china and candles. Or, celebrate the holiday at your favorite restaurant and present your partner with a special card detailing what you're most grateful for about him or her.
 
Scorpio (Oct. 23 to Nov. 21)
 
Let's face it -- sometimes you can't be bothered with holiday gatherings. It's okay to indulge your desire to be alone this year, or spend Thanksgiving with one special person. Don't knock yourself out with food preparation -- in fact, there's no law that says you have to eat turkey and dressing if you'd rather have macaroni and cheese! The underlying meaning is most important to you, so light a candle and give thanks.
 
Sagittarius (Nov. 22 to Dec. 21)
 
Try a change of pace at Thanksgiving this year by inviting friends and family on a cruise during which a sumptuous meal is provided. Or, go all out and meet in a nearby town (or even a foreign land!) and gather at a restaurant you've never tried before. Make sure it has a view of spectacular scenery and serves exotic fare. Turkey with Indian spices or wrapped in enchiladas would be memorable!
 
Capricorn (Dec. 22 to Jan. 19)
 
Because you love tradition, why not organize an authentic Thanksgiving this year? The Pilgrims built their meal around venison, wild fowl, Indian corn bread, squash and peas. Serve prune or berry tarts for dessert, and wash it all down with cider, beer or wine. Don't forget: Forks weren't used at that time, so offer guests a knife, spoon and big napkin to pick up their hot morsels of food!
 
Aquarius (Jan. 20 to Feb. 18)
 
The more the merrier for you, so why not join others at your local community center this year for a group Thanksgiving meal? Bring your favorite dish, and think about what you're grateful for ahead of time, as you may be asked to share it before eating. You could also ask loved ones to invite their friends, and meet up at a local park to share a festive meal!
 
Pisces (Feb. 19 to March 20)
 
You like to do it all, so make the rounds this Thanksgiving. Buy a few bottles of wine or sparkling water, and take one to each place you visit. That way you can see both friends and family, and no one will feel left out. Best of all, you get to enjoy several delicious meals! Bring a special dessert or aperitif to your final destination. And, if you overindulge, you can always take a taxi home!
 
And for a bit more fun with the signs:
 
Thanksgiving, according to thebutlercollegian.com is just around the corner, and that means three things: family, friends and heated political debates around the dinner table. Here's a list of Thanksgiving classics, that you can bring along to any Thanksgiving feast based on your star sign. They're a surefire way to get your family members to put down the pitchforks and pick up the silverware.
 
Aries: charcuterie
 
You are energetic and creative with so many aspects to your character, much like a charcuterie board, Aries. When it comes to an Aries there is something for everyone.You get the party started and keep it going!
 
Taurus: dinner rolls
 
You're grounded and dependable: you hold everything together. You, Taurus, are the dinner roll. You are great at cleaning up the other signs' messes, and make a bomb Thanksgiving leftover sandwich the next day. Everyone loves bread, so you're kind of a big deal.
 
Gemini: mashed potatoes and gravy
 
Gemini, you get two foods. You seem to have two totally different sides to you, not in a Jekyll and Hyde way but in a delicious carby bowl of potatoes and gravy kind of way. The gemini is curious and adaptable, Thanksgiving literally would be nothing without them.
 
Cancer: sweet potato casserole
 
You're sweet on top of sweet, Cancer! Sweet potato casserole is a classic you know you can bring home to your mother, or anyone for that matter. Who doesn't love toasted marshmallows?
 
Leo: turkey
 
The turkey is the center of attention at any Thanksgiving — Leos, you are too. I mean, the golden brown skin, the crunch, your tan looks great, Leo. P.S. much like eating way too much turkey, a night out with a Leo always leaves you insanely tired. Totally worth it though.
 
Virgo: stuffing
 
You add a certain "something" to Thanksgiving. Based on who you're around you can easily go all out or keep it simple. And again, who doesn't love bread?
 
Libra: pumpkin pie
 
You are a classic, Libra! You bring everyone together with your charming personality and you love nothing more than family, friends and tradition.
 
Scorpio: cranberry salad
 
You're mysterious, just like cranberry salad. What's inside it? How is it made? How does it hold its shape so well? No one really knows, but we do know that Thanksgiving isn't complete without you.
 
Sagittarius: A recipe you've never heard of before
 
Sagittarius' are trail blazers. There is nothing quite like you, and sure, some people might not like breaking tradition, but they have to admit you make it work.
 
Capricorn: roast beef
 
We know Leos are supposed to be the center of attention, but you make a pretty good case for yourself, Capricorn. You are independent and could probably run this whole Thanksgiving thing on your own. 
 
Aquarius: mince meat pie
 
You don't take yourself too seriously and that's what we love about you, Aquarius. You are dinner and dessert in an adorable bite sized package — all at the same time!
 
Pisces: mulled cider
 
Sweet with a touch of spice, while always keeping it classy. That's you, Pisces. You and a good mug of mulled cider make any cold November night more memorable.
 
---
---
Tags:
#thanksgiving#by#sign,#food,#starzpsychics