View Other Topics
What Flowers Are Best for Your Star Sign?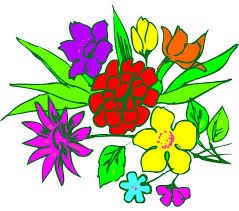 Jul 25, 2021
Image: Floral bouquet - clipartpanda.com
 
The language of flowers shares with us the meanings of flowers and we have used this information for centuries to not only better understand our natural environment, but also ourselves according to newspiritjournalonline.com. This language was developed throughout the centuries and across cultures as a way to pass along vital information about plants and their possible usage. It is based on visual and sensory aspects, such as taste and smell, as well as known usage, environmental and growth behavior.

When we use the language of flowers to give floral gifts, fill our spaces with their bouquets or even create botanical infused therapies and products, we can enjoy the emotional connection to these meanings for a possible strengthening or calming influence. This can bring us in balance with ourselves and in harmony with nature and those around us.

Flowers which align with your sun sign are meant to assist you. Their meanings and attributes may actually challenge you, so don't be surprised to perhaps see ones mentioned which don't really please you. While you can use zodiac flowers yourself, by finding your matching flowers, they are also the perfect flowers for gift giving for those born under each sign, either in a fresh bouquet, plant, decorative or cosmetic form.

There are many flowers with strong association with each zodiac sign, but here are a couple for each with their meanings and ways they will support you.
 
 
• Aries, 21 March-20 April?
Tulip (Tulipa) connect with the confidence of Aries people and with their adventurous side. They also help keep that confident nature strong.

Wild Rose (Rosa acicularis) tempers the tendency to selfishness and calms a hot head.

• Taurus, 21 April-21 May?
Lily of the Valley (Convallaria majalis) is a flower for all Taureans because it bonds with their grounded warm-heartedness. It also agrees with their loving nature.

Cherry (Prunus serrulata) offers peace and harmony to the, at times, inflexible Taurus.

• Gemini, 22 May-21 June
Snapdragon (Antirrhinum majus) mean inner strength, the ability to express emotions and adaptability, all strong Gemini traits.

Iris (Iris) offer faith, belief and an elimination of negative feelings, all helpful for the sometimes nervous or inconsistent Gemini.

• Cancer, 22 June-22 July
Delphinium's (Delphinium) message that anything is possible aligns perfect with Cancer's imaginative and intuitive side.

Poppy (Papauer rhoeas) can help offer stability to the changeable nature and moodiness of this sign with its meanings of continuance and memory.

• Leo 23 July-22 August
?Sunflower (Helianthus annuus) is the flower of confidence, self-esteem and assertiveness, all aspects of Leo and can assist in times they may need a little boost.

Marigold (Tagetes evecta) indicates irrational expectations and can remind Leos to be a little more tolerant.

• Virgo, 23 August-23 September
Cornflowers (Centaurea cyanus) are all about delicacy, reliability and knowledge, all lovely traits of Virgo which make this flower a good match.?

Daisy (Leucanthemum maximum), will help the Virgo stop worrying so much and have a little fun as they offer peace of mind and support to let go.

• Libra, 24 September-23 October
Hydrangea (Hydrangea) and Libra go together well as the flower's meanings of understanding, interconnectedness and sociability flow between them.

Love-in-a-mist (Nigella damascene) acknowledges the flirtatious nature of Libra but also offers clarity to the sign's indecisiveness.

• Scorpio, 24 October-22 November
Peony (Paeonia officinalis) offer nobility, prosperity, along with a very magnetic attachment to romance, all things Scorpios can relate to easily.

Chrysanthemum (Chrysanthemum) help Scorpio to be more open in friendships and be more trusting.

• Sagittarius, 23 November-21 December
Sage (Salvia officinalis) flowers support the philosophical and intellectual side of Sagittarians as well their optimistic outlook on life.

Wallflower (Erysimum) help this sign watch out for misfortune due to their occasional irresponsible or careless attitude.

• Capricorn, 22 December-20 January
Violets (Viola odorata) mean constancy and steadfastness and aligns perfectly with Capricorns' practical and disciplined nature.

Holly (Ilex aquifolium) brings the messages of cheerfulness and mental balance which are very handy for the sometimes pessimistic Capricorn.

• Aquarius, 21 January-19 February
Orchid (Orchidaceae), any orchid, means individuality and a celebration of uniqueness. They help Aquarians embrace this side of themselves.

Snowdrop (Galanthus nivalis) are strongly associated with solutions and inner peace, handy to calm the unpredictability and sometimes contrary nature of this sign.
 
• Pisces, 20 February-20 March
Carnations (Dianthus caryophyllus), are entwined with compassion and devotion and so support these aspects of those born under Pisces.

Heliotrope (Heliotropium) offers devotion and faithfulness to the vague and escapist moments of Pisces.
                                    
---
---
Tags:
#flowers#star#sign,#astrology,#starzpsychics