View Other Topics
20 Of The Most Courageously Badass Female War Heroes The World Has Ever Seen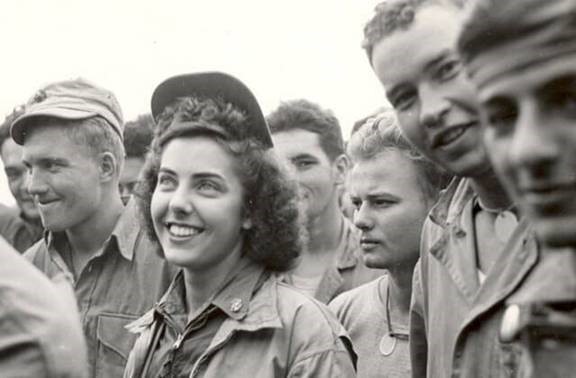 Apr 25, 2021
Image: Female war hero -navy.com/public domain
 
Women are the fairer sex, right? Maybe, but the truth is that plenty of females have proved they can equal and exceed males when it comes to battling for what they believe in according to historicalpost.com. Think of a British queen defying Roman invaders or women pretending to be men to fight in America's Revolutionary War. Such women have defied danger and stereotypes since time immemorial. Read on for the extraordinary stories of 20 intrepid women in wartime...
 
20. Queen Boudicca
 
Roman invaders arrived in the south of England in 43 A.D. One of the tribes they conquered were the Iceni. The leader of these people, who lived in what today is called East Anglia, was Prasutagus. The Romans decided to allow him to continue as king. But everything changed when Prasutagus died in 60 A.D. The Romans now opted to attempt to take over the Iceni fiefdom lock, stock and barrel. But the dead king's queen, Boudicca, had other ideas.
 
Enraged by ill-treatment of herself and her daughters at the hands of the Romans, Boudicca led her people in rebellion. Under the queen's command the Iceni warriors routed the Roman 9th Legion. The Iceni and other tribes then put Colchester, the Roman capital of England, to the torch and marched on London, destroying the city. Eventually, though, the Roman governor Gaius Suetonius Paulinus crushed the revolt at what was later called the Battle of Watling Street in 61 A.D. Boudicca is said to have taken her own life with poison rather than be captured by her Roman enemies.
 
19. Major Lyudmila Pavlichenko
 
Lyudmila Pavlichenko was a sniper with the Soviet Union's 25th Chapayev Rifle Division, a Red Army unit, fighting the Germans who had invaded her country in 1941. At first the Soviet army had tried to steer her towards nursing. But she insisted that she was a crack shot and proved it by killing two enemy soldiers in an impromptu test of her skills.
 
When Pavlichenko first went into combat, by her own admission she was rigid with fear. But a young comrade was shot and killed beside her, and from then on she operated with a steely determination. She killed an extraordinary 309 of the enemy, making her the most prolific female sniper in history. A 2013 article in the Smithsonian Magazine quoted her attitude towards her cruel profession. Pavlichenko explained, "Dead Germans are harmless. Therefore, if I kill a German, I am saving lives."
 
18. Harriet Tubman
 
Born a slave in 1820 in Maryland, Harriet Tubman escaped her bondage in 1849, fleeing to Philadelphia. Not content simply to enjoy her freedom, the next year she made the first of what would be 19 trips back to Maryland to help other slaves to escape north. Thanks to her, more than 300 people escaped their servitude, guided by Tubman to safety in Canada via clandestine routes that were known as the Underground Railroad.
 
After the Civil War broke out in 1861, Tubman joined the Unionist cause, operating as a spy. She risked her life to gather intelligence in Confederate territory, an activity for which she had been well prepared thanks to her years of experience in helping slaves to escape. She was able to feed extremely useful information to Union troops, and they used this intelligence about Confederate deployments to mount highly effective attacks. One such mission was an 1863 raid Tubman helped to organize on the Combahee River which resulted in the freeing of 700 slaves, 100 of whom joined the Union Army.
 
17. Jane Kendeigh
 
U.S. Navy flight nurse Jane "Candy" Kendeigh from Oberlin, Ohio was just 22 years old when she boarded a flight to the Pacific island of Iwo Jima in March 1945. At the time American G.I.s were meeting bitter resistance from the occupying Japanese troops. That made Kendeigh's arrival on the island a notable first. Never before had a Navy nurse landed on a Pacific island where fierce fighting was still under way.
 
Eventually, Ensign Kendeigh and other colleagues would evacuate nearly 2,400 U.S. Marines who had been wounded in the Iwo Jima battle. The nurses were specially trained to cope with battlefield casualties as they were evacuated from the island by air. In a 1985 story the The San Diego Union newspaper quoted Kendeigh's words about the rewards of her work, "…wan smiles, a slow nod of appreciation, a gesture, a word – accolades greater, more heart-warming than any medal."
 
16. Joan of Arc
 
Joan of Arc – or Jeanne d'Arc as the French know her – was born in France circa 1412 into a peasant family in the north-east of the country. Although she could neither read nor write, she was deeply religious. The girl was born into a turbulent period of French history, the Hundred Years War with England. The English had seized a telling advantage by about 1420 and had denied Charles of Valois what many French regarded as his right, the royal throne.
 
When Joan was just 13, a voice that she believed was a message from her creator implored her to lead her people against their enemies and to help Charles win the French crown. Some years later, Joan did indeed lead an army, riding in full armor at its head in a victorious battle over the English at Orléans. Charles was duly crowned king of France. But Joan was captured soon afterwards by the English who took a terrible revenge, burning her at the stake as a witch. She was just 19 when she met her terrible fate.
 
15. Josephine Baker
 
Born into poverty-stricken circumstances in 1906 in St Louis, Missouri, Freda Josephine McDonald would later become the legendary dancer Josephine Baker. She came to the attention of the world after she arrived in Paris, France in 1925. Her risqué costumes and flamboyant dancing at the notorious Parisian nightclub the Folies-Bergère made her a huge star in France and elsewhere.
 
But Baker's glittering career came to a juddering halt in 1939 when WWII erupted across Europe. The following year, Hitler's troops invaded France. Baker knew where her loyalties lay and she began clandestine work for the French Resistance movement. She kept her eyes and ears open, passing on useful information she heard while performing and acting as a messenger for the Resistance. The French recognized her bravery after the war with two highly prestigious military awards, the Legion of Honor and the Croix de Guerre.
 
14. Khutulun
 
Khutulun, born circa 1260, was a Mongolian leader whose military prowess became legend. The fact that the famous Mongol leader Genghis Khan was her great-great grandfather may go some way to explaining her leadership qualities. As a young woman, it's said that she upset gender stereotypes by becoming an outstanding wrestler, defeating all-comers.
 
In his Travels of Marco Polo, published in about 1300, the great Venetian explorer wrote about Khutulun. He declared that she was "so strong, that there was no young man in the whole kingdom who could overcome her, but she vanquished them all." When it came to battle, Khutulun liked to be in the thick of things, according to Marco Polo's account. She would charge into the enemy soldiers, snatch one, and drag him off to her own troops. Sounds terrifying.
 
13. Gwenllian ferch Gruffydd
 
Born circa 1100, Gwenllian ferch Gruffydd was a Welsh princess. The offspring of Gruffudd ap Cynan, Prince of Gwynned, and his wife Angharad is regarded as a great hero by the Welsh for her resistance against English and Norman invaders. It was in 1136 that she led a group of patriots in rebellion against the occupiers.
 
The Welsh gave the Anglo-Normans a beating at the Battle of Llwchwr on the first day of 1136. But the Normans were determined to fight back and mustered a strong force to counter-attack the Welsh. Princess Gwenllian now embarked on a campaign of guerilla warfare against her country's enemies. Dismayingly, her fate was sealed when she was betrayed by a supposed ally: the Normans captured her and put her to death. Still, the brutal slaying of the warrior princess enraged and inspired her people, and a successful rebellion forced the Anglo-Normans from much of Welsh territory.
 
12. Ruby Bradley
 
Ruby Bradley was serving with the U.S. Army Nurse Corps in the Philippines in 1941 when the Japanese invaded soon after their surprise attack on Pearl Harbor. She was taken prisoner and sent to the Santo Tomas Internment Camp in Manila. Apart from the trauma of being held captive by a hostile power, the worst thing about the camp seems to have been the chronic shortage of food. In a 1945 UPI press agency article one internee, Jean Hick, remembered, "Last Christmas we got a spoonful of jam each, and that was heaven."
 
Bradley made it her mission to help those suffering from malnutrition. She smuggled food to the worst-affected prisoners and often went without herself so that others could eat. And all through the three years of her captivity she continued with her medical duties. She delivered 13 babies and carried out 230 vital operations. When the camp was eventually liberated by American soldiers in February 1945, Bradley registered just 84 pounds on the scales. Bradley continued as an Army nurse and, much decorated, she rose to the rank of colonel.
 
11. Deborah Sampson
 
Deborah Sampson was born in Plympton, Massachusetts, in 1760 into a family descended from the original Pilgrim Fathers. But that didn't make them wealthy. Indeed, after her father was lost at sea, Sampson was indentured as a servant at the age of ten. At 18, she became a teacher, but it seems that her patriotic fervor dictated her next move. In 1782 Sampson disguised herself as a man so that she could join the Revolutionary Army fighting to free America from British colonial control.
 
Taking the name Robert Shurtleff, Sampson succeeded in joining the Fourth Massachusetts Regiment and went on to fight with the Company of Light Infantry in New York. She undertook dangerous missions such as scouting Manhattan for enemy positions. She led a force of some 30 men that ended up in hand-to-hand fighting with British loyalists, and she fought at the Siege of Yorktown. After two years her ruse was revealed when serious illness forced her into hospital. The Revolutionary Army gave her a well-deserved honorable discharge – and she even got a military pension.
 
10. Cut Nyak Dhien
 
Born in Indonesia's Aceh Province in the northern part of the island of Sumatra, Cut Nyak Dhien is revered in her homeland for her resistance to Dutch colonialists. Her father, a military leader with the title of uleebalang – which translates as commander – and her first husband took to the jungle in 1873 to wage guerilla warfare against the Dutch. Abandoning a comfortable life, Dhien joined them. Tragically, both her father and husband were killed at the Battle of Sela Glee Tarun.
 
Dhien now took over her father's command, leading the resistance against the colonizers. Surprisingly, Dhien and another commander, Teuku Umar who was now her husband, surrendered to the Dutch in 1875. But it was a tactical subterfuge. Having convinced the Dutch of their loyalty, they made off with a considerable amount of armaments and fighters. Now well-resourced, Dhien and Umar were able to mount effective resistance to the Dutch for many years. Eventually, Umar was killed in 1899 and Dhien was captured and exiled in 1901.
 
9. Nancy Wake
 
Born in 1912 in New Zealand but brought up in Australia, Nancy Wake traveled to Europe in 1932. She settled in Paris, France, where she worked as a journalist for the American press. As the 1930s rolled on, the reporter filed stories from both Berlin and Vienna, where she witnessed the rise of Hitler, whose fascism and vicious anti-Semitism repulsed her. After the German invasion of France in 1940, Wake and her husband Henri Fiocca, a prosperous businessman, joined the Resistance movement.
 
Wake and Fiocca helped Allied airmen and Jewish refugees to escape the clutches of the Germans by spiriting them over the border to neutral Spain. Eventually Wake herself made the journey across the Pyrenees to Spain and on to Britain. There, she joined British special forces and was parachuted back into France. She worked with the Resistance, preparing for the 1944 invasion of Normandy. After D-Day, she fought against Germans as they attacked Resistance units. Not until France was liberated did she learn that the Gestapo had killed Fiocca in 1943.
 
8. Cynane
 
Cynane, a half-sister of Alexander the Great, was born in about 357 B.C. and was the daughter of Princess Audata, an Illyrian, and King Philip II of Macedon. The Illyrians had a tradition of training their women as warriors, so Audata made sure that Cynane had military instruction and instilled in her the conviction that she could fight and indeed command just as capably as any of her male counterparts. Still only in her teens, she joined a military campaign to her mother's homeland of Illyria. It's said that she killed a queen called Caeria there, a woman that might even have been a relative.
 
After Phillip II's assassination in Aegae, the capital of his homeland, Alexander the Great took the Macedonian throne. But in 323 B.C. Alexander died and was succeeded by his dim-witted half-brother Arrhidaeus. Cynane saw her chance to grab power. At the head of an army, she marched on Babylon with the aim of coercing the new ruler into a marriage with her daughter Adea, installing the young woman on the throne and ensuring Cynane had a position of influence and control. Yet, after winning a battle against her Macedonian rivals, Cynane was undone by the treachery of an old friend, Alcetus. He murdered her during a meeting.
 
7. Lilya Litvyak
 
After the Germans invaded in 1941, the Soviets had no hesitation in putting women into frontline combat positions – 800,000 of them eventually fought in WWII. One of those was Lilya Litvyak, who was a Muscovite born in 1921. Before the war she'd trained as a civilian pilot from the age of 14 and went on to earn an instructor's certificate. But when she applied to join the Soviet air force, she was rejected for lack of experience.
 
Undeterred, she applied again after doctoring her papers to add an extra 100 hours of flight time. That did the trick and she joined the all-female 586th Fighter Regiment, flying her first mission in summer 1942. Soon, she was flying combat missions in the skies of Stalingrad and her first kills came in September, when she downed both a German fighter and a Junkers 88 bomber. More successes came her way and under the title of the "White Rose of Stalingrad" she became internationally famous. But on August 1, 1943, she was shot down on a mission, presumed killed. Astonishingly, her grave was not located until 1979 after a 36-year campaign to uncover the truth about her fate; she was posthumously awarded the title "Hero of the Soviet Union" in 1990 by then-premier Mikhail Gorbachev.
 
6. Noor Inayat Khan
 
Noor Inayat Khan's was born in 1914 in Moscow, to an American mother. Her Muslim father could trace his lineage back to a famed Indian ruler, Tipu Sultan, who died fighting the British in 1799. Khan was educated in Paris, France, and then went on to write children's stories in the city. She and her family escaped to Britain in 1940 when the Germans invaded France. Once in Britain, Khan volunteered for the Women's Auxiliary Air Force. This soon led to her recruitment as an agent by the secretive Special Operations Executive, the SOE.
 
Khan was trained as a radio operator and was flown to France in June 1943. There she connected with a resistance group in Paris. Unfortunately, many of its members were detected and captured soon after Khan's arrival, but she continued doggedly with her mission. Although in October she was betrayed to the Gestapo, who arrested and tortured her, she refused to talk. In 1944 she was sent along with three other female SOE agents to the Dachau concentration camp in Germany. All four were shot there.
 
5. Cathay Williams
 
Cathay Williams was born into slavery in 1844 in Independence, Missouri, and as a teenager worked as a house slave at a plantation near Jefferson City. When Union forces captured the city early in the Civil War in 1861 Williams took on the status of "captured slave." But she volunteered her services to the Union army and worked in its catering section and doing laundry.
 
In 1866 Williams decided to officially enlist under a different identity. She became William Cathay and joined the 38th U.S. Infantry as a man after passing a rudimentary medical examination. That gave her the distinction of being the first African-American woman to join the U.S. Army. Indeed, the all-black regiment with whom she served became the basis for the legendary Buffalo Soldiers outfit; she was the only woman ever to serve with the unit. Her deception only came to light after a serious illness struck her down; she was honorably discharged in 1868.
 
4. Flora Sandes
 
Flora Sandes was without doubt one of a kind: she was the only British woman to fight on the frontline during World War I. Sandes was born in the northern English county of Yorkshire in 1876 and brought up in the Suffolk countryside, further to the south. Initially she signed up with the St. John Ambulance Service and was posted to Serbia. Having learned Serbian, after a year she moved to the Serbian Red Cross.
 
The Germans were making advances into Serbia and Sandes now signed up with the Serbian Army, a rare military force which allowed women to join and fight. She was wounded in action in a grenade attack, sustaining a broken arm and shrapnel wounds. Sandes rose to the rank of sergeant-major in the Serbian Army and was decorated by the grateful Serbs with the King George Star.
 
3. Susan Travers
 
Keen to have a go at the Germans in WWII, Susan Travers joined the Free French Forces as an ambulance driver with the 13th Demi-Brigade of the French Foreign Legion. She had been born in 1909 into a well-to-do family in London, England, her father a Royal Navy admiral, her mother a rich heiress. Still, Travers was happy to rough it with her comrades as they fought in French West Africa.
 
Eventually, Travers ended up driving her ambulance in Eritrea where dodging bullets and mines was all in a day's work. She also saw service in the north African desert battlefields of Libya. At one point, the Germans were advancing and French troops had to evacuate. Travers led the way, driving her commander's staff car under intense fire through the desert. Even this episode didn't mark the end of Travers' war heroics: she saw further action with the French Foreign Legion in its subsequent Italian campaign and engaged in fighting on the Western front, when she was injured by a landmine.
 
2. Dr. Mary E. Walker
 
Dr. Mary E. Walker was already a rarity in mid-19th-century America: a female surgeon. But she wanted to go further, to become an army doctor fighting with the Union forces in the Civil War. Aged 29, she applied to the Union Army in 1861 but was refused permission to join. Undaunted, she gave her professional skills as a volunteer. After two years of service, her worth was finally recognized and the army accepted her as an assistant surgeon, serving with the 52nd Ohio Regiment.
 
Dr. Walker was unlucky enough to be captured by the Confederates 1864 and held as a prisoner of war for four months in poor conditions. Her bravery was recognized in 1866 when she was awarded America's highest military accolade, the Medal of Honor. Bizarrely this was revoked by Congress in 1917 on the grounds that the medal was only for those involved in active combat. This injustice was finally rectified in 1977 when Walker's decoration was reinstated, 58 years after her death.
 
1. Mariya Oktyabrskaya
 
Born in 1905 into a Ukrainian peasant family, 20 years later Mariya Oktyabrskaya met and married a Soviet artillery officer, Ilya Ryadnenko. The Soviets and the Germans were engaged in bitter fighting in the Ukraine during WWII and Maria's husband was killed there in 1941. Grief-stricken but deeply angered, Oktyabrskaya was determined to take revenge on the Germans. She immediately applied to fight but her age, 36, counted against her, and she was rejected.
 
As an alternative, Oktyabrskaya embarked on the improbable task of raising enough money to pay for a T-34 tank. Somehow, she achieved her goal. Then she wrote to Joseph Stalin demanding that she should drive "her" tank. Incredibly, the Soviet leader agreed. In 1943 Oktyabrskaya became the first female Soviet tank driver, her vehicle named "Fighting Girlfriend." She saw active service and killed many of the enemy. But in January 1944 Sergeant Oktyabrskaya, as she now was, sustained serious wounds in action. She died from her injuries in March.
 
 
---
---
Tags:
#courageous#females,#female#heroes,#starzpsychics