View Other Topics
NORAD Santa Tracker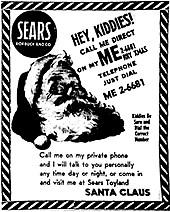 Dec 24, 2020
Image: NORAD Santa poster - norad.org
 
It wouldn't be Christmas without the awesome tracking skills of North American Aerospace Defense Command (NORAD)
 
NORAD Tracks Santa is an annual Christmas-themed program in which NORAD simulates the tracking of Santa Claus, who is said to leave the North Pole to travel around the world on his mission to deliver presents to children every year on Christmas Eve.
 
Here's the official website: 
https://www.noradsanta.org
 
Watch real time as Santa crosses the globe delivering presents!
 
Unfortunately, there haven't been enough elves to man the telephones, so look for them in social media.
 
Don't forget to hang your stocking!
---
---
Tags:
#norad#trackeer,#follow#santa,#starzpsychics