View Other Topics
This Apple Spice Cake Is Easy And Affordable To Make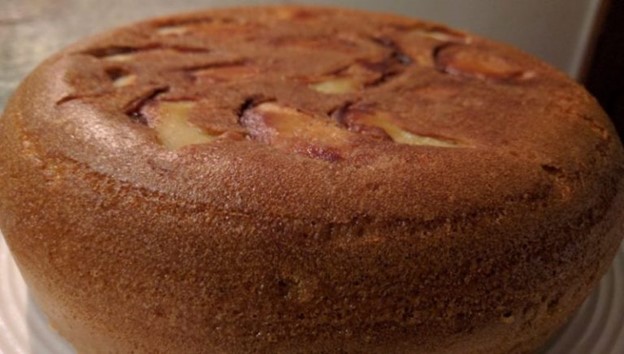 Dec 11, 2020
Image: Spiced apple cake - greedypanda.co.uk

When fall hits, people are quick to talk about pumpkin spice. But what about apple spice asks intheknow.com? Fresh-picked apples, apple cider and cider doughnuts are all just as appropriate for the season and equally as delicious. So put away your pumpkin roll recipes because we're making this apple spice cake.
 
Keep in mind, this apple spice cake recipe calls for only two apples, but we recommend getting a few more for garnishing your plate or snacking on while the cake bakes. Seriously, there's nothing like a crisp fall apple.
 
You don't need to spend a lot of money to make something absolutely tasty — and this apple spice cake recipe is proof.
 
INGREDIENTS
 
2 apples
2 ¼ cup flour
1 ½ teaspoon baking soda
¼ teaspoon baking powder
½ teaspoon cloves
2-3 teaspoon cinnamon
1 ½ teaspoon salt
½ cup butter
2 cups sugar
2 eggs
1 cup applesauce
caramel sauce, for topping
powdered sugar, for topping
 
INSTRUCTIONS
 
Preheat oven to 375° F.

Cut apples into 1-inch pieces and set aside.

Place a sifter over a mixing bowl and add in flour, baking soda, baking powder, cloves, cinnamon and salt. Sift and set aside.

In a mixing bowl, use a hand mixer to blend butter and sugar together.

Add two eggs and blend.

Add apple sauce and blend.

Combine dry ingredients with the wet and blend together.

Fold in apples with a spoon, making sure to coat every piece with the cake. mixture.

Pour cake mixture into a 9×13 baking dish and bake in the oven for 30–40 minutes.
 
Let it cool for 5 minutes, then slice and serve with caramel sauce and powdered sugar.
 
STRUSSEL TOPPING
 
INGREDIENTS
 
3/4 cup flour
1/2 teaspoon cinnamon
1/2 cup packed brown sugar
3/4 cup rolled oats
1/2 cup buttor or margarine
1 teaspoon lemon zest
 
INSTRUCTIONS
 
In a medium bowl combine flour, cinnamon, brown sugar, oats, and lemon peel.

Mix thoroughly

Cut in butter or margarine until mixture is crumbly.

Remove cake from oven and sprinkle streusel on top.
---
---
Tags:
#applie#spice#cake,#dessert,#starzpsychics