View Other Topics
Veterans Day 2018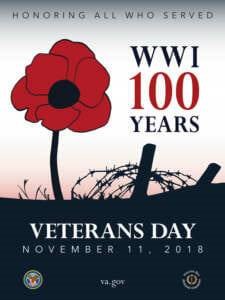 Nov 11, 2018
Image: Veterans Day Poster: "The War to End All Wars -

U.S. Department of Veterans Affairs Posters"

Today is Veterans Day and is designated as a Federal Holiday on Monday, November 12th, 2018 according to militarybenefits.info.  As a federal holiday Veterans Day is typically observed on November 11th every year.  However, if it occurs on a Sunday then the following Monday is designated as the Federal holiday, and if it occurs on a Saturday then either Saturday or Friday may be designated.

When the Federal holiday and November 11th dates are different often times Veterans Day activities will take place on both days and still many activities are often scheduled the weekend leading up to Veterans Day even if both dates match.

2018 marks the Centennial Commemoration of the end of World War I on November 11, 1918. The theme for the 2018 Veterans Day Poster is: "The War to End All Wars" and features a poppy and barbed wire.

Veterans Day Guide to Offers
(
https://militarybenefits.info/veterans-day
)
National Free Meals & Discounts             National Retail, Travel & Service Deals, Discounts, Freebies

Local Area Free Meals & Discounts         Giving Back & Veterans Services

How to Get a Veterans ID                         Map to Veterans Day Free Meals and Services

Veterans Day Events

America's Parade – New York, NY

The parade will occur on Friday, November 11 (Veterans Day), rain or shine. It starts at approximately 11:15 AM (at the conclusion of the Opening Ceremony, see below) and concludes around 3:30pm.

Local Veterans Day Ceremonies & Parades

There are many local Veterans Day ceremonies and parades. Check your local news sites or Veterans organizations and charities for more information.

National Veterans Day Ceremony – Arlington National Cemetery, Arlington, VA  
https://www.cem.va.gov/cems/2016_Veterans_Day_Ceremonies.asp
The Veterans Day National Ceremony is held each year on November 11th at Arlington National Cemetery . The ceremony commences precisely at 11:00 a.m. with a wreath laying at the Tomb of the Unknowns and continues inside the Memorial Amphitheater with a parade of colors by veterans' organizations and remarks from dignitaries.

VA National Cemeteries by State – Multiple cities


This listing is in alphabetic order by state.

Veterans Day Run – Multiple Cities

the National Veterans Day Run seeks to provide a platform of appreciation for those that have served or are currently serving our Country.

About Veterans Day

Veterans Day is observed every year on November 11th. Veterans Day was originally called "Armistice Day" when President Woodrow Wilson proclaimed this day in November 1919. Armistice is when warring parties agree to stop fighting and "Armistice Day" recognizes the end of World War 1 when hostilities ceased on November 11th at 11 A.M, 1918 (11th hour, of the 11th, of the 11th month).

On May 13th, 1938 Armistice Day was declared a legal holiday each year. A day to be dedicated to the cause of world peace. Originally Armistice Day only honored veterans of World War.

On November 11th, 1947 Raymond Weeks, a World War II veteran, organized a "National Veterans Day" parade in Birmingham, Alabama to recognize veterans of all wars.

This celebration led to Congress changing Armistice Day to Veterans Day in 1954 to recognize Veterans of all U.S. wars.

Difference Between Veterans Day and Memorial Day

Memorial Day is for remembering and honoring military personnel who dies in the service of their country, particularly those who died in battle or as a result of a wound sustained in battle.

Veterans Day is intended to thank all those who honorably served in the military – in war time or peace time.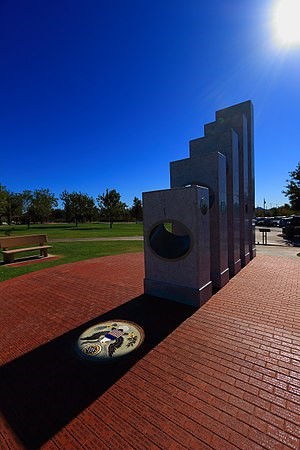 Anthem Veteran's Memorial
Anthem, Arizona - Wikipedia

Anthem Veterans Memorial: A Unique Place to Visit on Veterans DayAnthem Veterans Memorial

The Anthem Veterans Memorial  has five pillars that represent the five branches of the United States military.  They are staggered in size and the military seal placements on each pillar are based upon the Department of Defense prescribed precedence, ranging from the United States Army, the United States Marine Corp, the United States Navy, the United States Air Force, and the United States Coast Guard.

On Veterans Day as at precisely 11:11 AM on Veterans Day, November 11th, the sun's rays will pass through each of the five pillars' elliptical openings to illuminate a glass mosaic medallion of the Great Seal of the United States.

 
---
---
Tags:
#veterans#day,#flag,#starzpsychics.com,#starz#advisors