View Other Topics
Cards by StarzRainsLovingInsight - Guardian Angel Cards/Blessings
Apr 10, 2018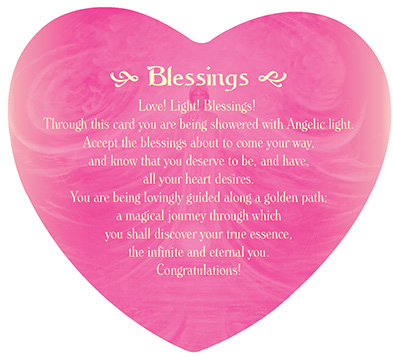 Blessings
Blessings

Love! Light! Blessings!  Through this card you are being showered with Angelic light.  Accept the blessings about to come your way, and know that you deserve to be, and have, all your heart desires.  You are being lovingly guided along a golden path; a magical journey through which you shall discover your true essence, the infinite and eternal you.  Congratulations!

If you FEEL that you are about due for a blessing, you are quite right by that!!  Very, very soon you will have all the blessings that are coming for you and that you DESERVE!  For a very long time the angels having been guiding you to this direct path that you are on now to RECEIVE your blessings tenfold!  You know and have felt this feeling for a while now and you just KNEW it was coming.  You have a deep ingrained intuition in you that is helping you sense and feel this right at this now!  You will be able to see very clearly now what it is that you are to do for yourself for the rest of your life.  This will help you to become very successful and lead you to many different aspects of your life!  Good for you that you have believed and loved for all your life thus far!


You may reach StarzRainsLovingInsight at: 
https://www.starzpsychics.com/starzrainslovinginsight
Guardian Angel Cards -- Loving messages from the angels  Blue Angel Publishing
Cards by Toni Carmine Salerno

Image used with permission of USGame Systems, Inc  Further reproduction prohibited.
---
---
Tags:
#guardian#angel#cards,#usgamesinc,#blessings,#starzpsychics.com,#starz#advisors,starzrainslovinginsight