View Other Topics
Winged Enchantment Cards - StarzRainsLovingInsight - The Seagull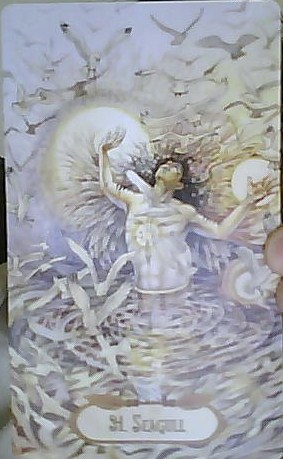 Mar 26, 2016
Seagull

I am Seagull, master of the sea.  I am legend on the waters.  I am ghost bird.  I am the one who haunts those adrift in the storm.  I have the ways to maintain my bold position and defend a scavenger lifestyle.  I take what I want, as my survival depends on it.  If you want my advice--learn to take what is given while it's there. There is always treasure where nobody looks  There are always paths no one has trod upon.  Seek them out and make them your own.  I am resource and plenty.  Expand your horizons.  I am guardian of the open shores.  Look farther out to sea, the ships may be heading in your direction.  Competition is wild, but your instincts are keen.

The Seagull is the bird of navigating chaos.  You may feel you need to have to defend your life style.  You fear that others may not understand it.  But we aren't put on this earth to be judged by others.  We have to stick up for what we want in this life no matter what others say about it.  Don't be afraid to speak your mind about how you feel you are being treated.  Bring that seagull out in you!  If others are mistreating you, EXPAND your circle and let those people go, you don't need judgmental people in your life!

You may reach StarzRainsLovingInsight at:
http://www.starzpsychics.com/starzrainslovinginsight
Reproduction of all or any part of posts by StarzRainsLovingInsight©, including previous posts, without the express written permission from Planet Starz, Inc. is strictly forbidden.  All violators will be prosecuted to the fullest extent.
**The Winged Enchantment Cards by Lesley Morrison and artwork by Lisa Hunt images used with permission of U.S. Games Systems, Inc., Stamford, CT. c. 1971 U.S. Games Systems.  Further reproduction prohibited.**
---
---
Tags: